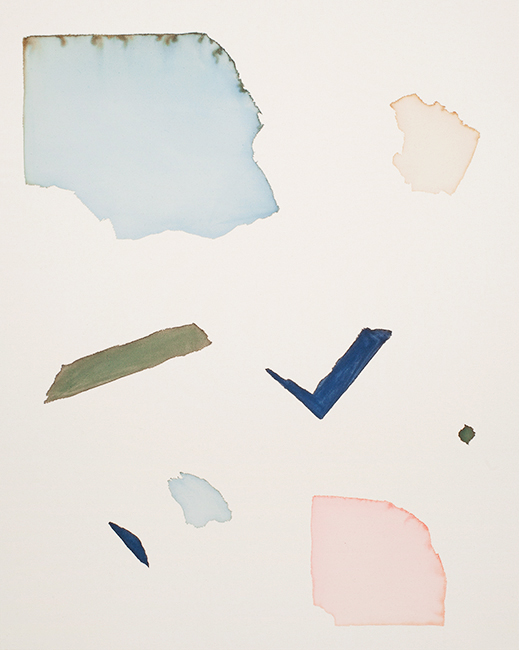 Landon Metz / Phoenix, USA, 1985
Brooklyn-based artist Landon Metz has garnered critical attention for his ability to imbue a spare language of abstraction with visual dynamism and sense of movement. His paintings have the capacity to expand and deal with space serially, while being site-responsive rather than site-specific. Metz's painting practice is marked by great sensitivity to site and scale and increasingly incorporates performance and sculptural approaches to activate space.

Strategies of display are central to Metz's visual language and his installations often incorporate elements of rhythm and repetition. Frequently in his work multi-panel paintings are presented as diptychs and triptychs, which he sometimes installs abutting one another, reaching into or wrapping around corners. He also produces shaped canvasses that mimic the abstract shapes that appear in his other paintings. As Metz has observed, "My practice is largely about breaking down polarities, and I think that's apparent in the way I present space. It's about negotiating between setting and subject, public and private."

Metz's work has appeared in solo exhibitions in Norway, Italy, Denmark and Canada. In 2014, he was the artist in residence at the ADN Collection in Bolzano, Italy. Metz was born in Phoenix, Arizona and currently lives and works in Brooklyn, New York.
SELECTED SOLO EXHIBITIONS
2018
Landon Metz, Museo Pietro Canonica, Rome, Italy
Fourth Wall, Von Bartha, S-chanf, Switzerland
2017
At the bodega on the corner they have black plums 2 for $1 and cactus pears 2 for $1 and tangerines 2 for $1, Andersen's Contemporary, Copenhagen, Denmark
Quintets, VI, VII, Oslo, Norway
2016
&, Massimo Minini, Brescia, Italy
&, Francesca Minini, Milan, Italy
2015
oh oh oh oh oh oh oh oh oh, Andersen's Contemporary, Copenhagen, Denmark
Landon Metz, James Fuentes, New York
miart, VI, VII, Milan, Italy
2014
Michael Jackson Penthouse, Retrospective, Hudson, New York
Expo Chicago, James Fuentes Gallery, Chicago, Illinois
Free Run, Cooper Cole, Toronto, Canada
Plose, ADN Collection, Bolzano, Italy
2013
Sometimes I'll Walk Down The Street And Add Up Numbers To See If They're Divisible By Three, ARTISSIMA, TORRI, Turin, Italy
Varying Degrees of Absurdity, Art Los Angeles Contemporary, TORRI, Los Angeles, California
2012
Still, TORRI, Paris, France
2011
Something To Dance To, Preteen Gallery, Mexico City, Mexico
Vibrations, Youth Group Gallery, New York
What Kind Of Dream Is This, Preteen Gallery, Mexico City, Mexico
SELECTED GROUP EXHIBITIONS
2017
Greffes, curated by Pier Paolo Pancotto, Villa Medici, Rome, Italy (Forthcoming)
Corners / In Between, curated by Eva Brioschi, Norma Mangione, Turin, Italy
2016
Armory, Massimo Minini, New York
Art Basel, Massimo Minini, Basel, Switzerland
Art Basel Miami, Francesca Minini, Miami, Florida
Artissima, Massimo Minini, Torino, ItalyFIAC, Massimo Minini, Paris, France
Last updated: 27 March 2018
Miart, Massimo Minini, Milan, Italy
Morris Louis / Landon Metz, with Morris Louis, Paul Kasmin, New York
Splotch, Sperone Westwater, New York
2015
Art Basel Hong Kong, Andersen's Contemporary, Hong Kong, China
Artissima, Massimo Minini, Torino, Italy
Artissima, Francesca Minini, Torino, Italy
Dallas Art Fair, James Fuentes, Dallas, Texas
FIAC, Massimo Minini, Paris, France
Printed Matter, New York
The Essential Bruce Springsteen, Andersen's Contemporary, Copenhagen, Denmark
2014
173 E 94th St / Chausee de Waterloo 550, Paul Kasmin at Middlemarch, Brussels, Belgium
Art Los Angeles Contemporary, Martos & TORRI, Los Angeles, California
From Pre-History to Post-Everything, Sean Kelly, New York
La Chose Encadrée, SWG3, Glasgow International Biennial, Glasgow, United Kingdom
NADA, Andersen's Contemporary, Miami Beach, Florida
2013
Extraction, The Hole, New York
F(re)e Play, Stadium, New York
La Suite, TORRI, Paris, France
Organix, Curated by Diego Cortez, Luciano Benetton Collection, Venice, Italy
Shake Shack Guggenheim, with Ethan Cook, V1, Copenhagen, Denmark
Space Whole Karaoke, Middlemarch, Brussels, Belgium
This is the story of America, Brand New Gallery, Milan, Italy
2012
Can't Stop Rock Lobster, Shoot The Lobster, New York
Caves and Laptops, Mother Neff State Park, Moody, Texas
Dreamtigers (with Ethan Cook), Ed. Varie Gallery, New York
Slowed & Throwed, Chinatown Arcade, New York
The Love We Make (with Lauren Luloff), East Hampton Shed, East Hampton, New York
TLK DRTY, Amstel 41, Amsterdam, The Netherlands
2011
Historia Mysteria, Renwick Gallery, New York
Post Truth, Reference Art Gallery, Richmond, Virginia
Saint Lawrence Ice, Wolfe Island, Ontario, Canada
2010
Vor Gott Ist Alle Kunst Scheisse, Mike Potter Projects, Cologne, Germany
Mind the Gap, Less is More Projects, Paris The Fine Line, Openhouse Gallery, New York
Paper Awesome, Baer Ridgway Exhibitions, San Francisco, California
The Company of People Group Exhibition, Space 15 Twenty, Los Angeles, California
AWARDS
2014 Artist in Residence, ADN Collection, Bolzano, Italy
PUBLICATIONS
2015 Landon Metz, Monografía, Mousse
2014 West Street Studio, Monografía, Libraryman
2013 Verdadera translation, Monografía
2012 Pintura Pintor de superficie, Monografía, Vimmerby RinkerbyBallet
2012 El inclusivista, Monografía