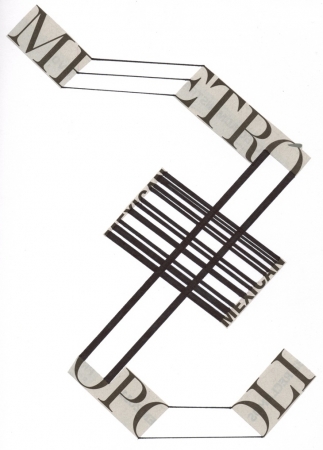 Marco Rountree Cruz / Mexico City, 1982
He is one of the most promising yet understated artists on Mexico´s emerging scene. Self-taught, he developed a passion for drawing at a young age. In fact he came to art as a teenager via graffiti and then skateboarding and music, which brought him into the circle of La Panadería, an artist-run space founded by Miguel Calderón and Yoshua Okón in Mexico City (1994-2002), "I was lucky to live in Mexico City in the 1990s, to be involved with the 1990s generation, ´Rountree Cruz says, "I was able to meet these artists and learn from them without being intimidated by them. ´To compensate for his lack of academic training, friends and fellow artists gave him books to read, thus inspiring the first series of works that brought him critical acclaim. Untitled, like most of his pieces, these pieces consist of books with their pages folded, ´I am a bad reader´, the artist says ´I don´t usually read books, but I love the movement. When you fold pages, you make movement graphic. ´Reduced to geometrical shapes such as cylinders or hemispheres, the books become formal objects rather than items of everyday use. This shift in function is further enhanced by their display on wooden units such as shelves and tables that Rountree Cruz created himself and that mimic Minimalist installations. Cut-out books also inspired a series of collages of broken-up words that evoke musical scores, one of his other passions.
A reinterpretation of domestic objects and an interest in spatial organisation, both recurring aspects of Rountree Cruz´s oeuvre, are found in his other signature piece, an ongoing series of wall drawings realised with masking tape. These large-scale, ephemeral installations are created directly on the wall without preparatory sketches- a tribute to his well-honed drawing skills and early career as a graffiti artist. Initially he used ordinary blue masking tape found in Mexico City´s street markets, but he has since employed a broarder range of colours. The mostly abstract, colourful installations recall wall drawings by Sol LeWitt, an artist whom Rountree Cruz admires, although figures in the Socialist Realist style appear in some works as a humorous reference to the famed Mexican muralists of the 1930s.
These ephemeral installations contrast with major architectural commissions Rountree Cruz has received in spite of his young age, such as a 10-by-7-netre, 3-tonne ceiling piece in the lobby of a corporate building in Guadalajara, or the swing sculpture he created in 2011 for the Botanical Garden in Culiacán. Rountree Cruz´s most ambitious project to date was a site-specific installation for the Proyectos Monclova gallery Mexico City (2009).
Entitled Concepción Béistegui 831 (the address of his home/studio), it was conceived as an homage to an uncle who had died from the complications of drug addiction. Bathed in red light, the installation consisted of a combination of objects and furniture from the house they both lived in together with recreated objects [many of them interactive] such as a swing that visitors were invited to use. This deeply emotional but nonetheless playful installation recalled the Cosmococa series by the Brazilian Hélio Oiticica, whom Rountree Cruz greatly admires. He also counts the German artist Martin Kippenberger as one of his heroes. On his list of future projects, music production features prominently - in fact, he and the band he has formed have been signed by an important Mexican studio - as does his as yet unrealised dream of training as an architect.
Marco Rountree Cruz's entire career has been built as a practical answer to the question: Who is an artist? What does an artist do? In Marco's specific case his being self-taught is fundamental to understanding the idea of the artist's calling. His attention is directed to all kinds of things: small and big, important and trivial, and it is through the mixing and transformation of these things that his practice as a visual artist earns its meaning.
In his use of everyday things and materials he intentionally "upgrades" them to transform them into decorative objects. For Rountreee it is indeed the concept of ornamentation what turns a common object or a trivial material into a special one, what brings it out of its natural environment and inserts it into the art field.
SOLO EXHIBITIONS
2016
Muralismo Floritural – Galería La Caja Negra, Madrid, España
Pop Up Summer (Faldas y plantas) – Proyecto Paralelo. Ciudad de México
2013
Post Concepción – Gabrielle Maubrie Gallery. París Francia
El Club del Aburrimiento – Proyecto Paralelo. Ciudad de México
2011
Walking Objects - Art Exchange, University of Essex. Essex, Inglaterra
Toilet Paradiso - White Cubicle Gallery. Londres, Inglaterra
La Casa del Dr. Caligari - Travesía Cuatro. Madrid, España
2010
Sin Título - Museo de Arte Querétaro. Querétaro, México
2009
Colección Otoño Invierno - Valenzuela Klenner. Bogotá, Colombia
2008
Concepción Béistegui 831 - Proyectos Monclova. Ciudad de México
2007
Extensión considerada en una sola de sus tres dimensiones - Galería Seattle. Guadalajara, México
Unidad Indivisible - Valenzuela Klenner. Bogotá, Colombia
2006
Romero Solo - Proyectos Monclova. Ciudad de México
2005
Sin Título - Proyectos Monclova. Ciudad de México
GROUP EXHIBITIONS
2017
One Love, One Life, One Parking - Ciudad de México
2015
Días Feriados – Bitácora, Bogotá, Colombia
True Story – Proyectos Monclova. Ciudad de México
Rastros y Vestigios. Indagaciones sobre el presente – Instituto Cultural Cabañas. Jalisco, México
2013
Formas y Pasajes - Centro de las Artes, Parque Fundidora. Monterrey, México
Arquitectura Moderna en África – Machete. Ciudad de México.
Proyecto realizado con Enrique Giner de los Ríos
2012
Poule! - Colección Jumex. Ciudad de México
Tiempo de Sospecha - Museo de Arte Moderno. Ciudad de México
La Bibliotheque Comme Memoire - Gallery Gabrielle Maubrie. Paris, Francia
2011
Jardín Botánico Culiacán. Sinaloa, México. Proyecto permanente
Pescado de Abril - Galería Desire Saint Phalle. Ciudad de México. Proyecto realizado en conjunto con Rodolfo Díaz
Optimismo Radical - Josee Bienvenu Gallery. Nueva York, EE.UU.
2010
Todas las Historias son Historias de Amor - Galería Desire Saint Phalle. Ciudad de México
Draw - Museo de la Ciudad de México. Ciudad de México
El Arte del Hogar - Galería Caja Blanca. Ciudad de México.
2009
Nejushtan - La Vitrina. Guadalajara, México. Proyecto realizado en conjunto con Rodolfo Diaz
Nothingness and the Being - Colección Jumex. Ciudad de México
Formas Literarias - 2da Trienal Poligráfica. San Juan Puerto Rico
Conversations 2 - Travesía Cuatro. Madrid, España
2008
El Norte del Sur - Galería Baro Cruz. Sao Paulo, Brasil
This is not a Void - Galería Luisa Strina. Sao Paulo, Brasil
An Unruly History of the Readymade - Colección Jumex. Ciudad de México
Love Love Love - Martos Gallery Nueva York, EE.UU.
2007 Hang ART Edición 7. Salzburgo, Austria
YAK - La Planata. Guadalajara, México